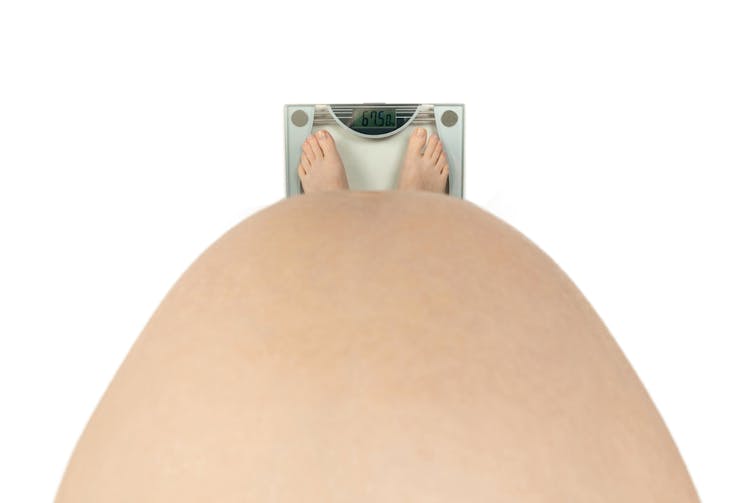 Hazel Flight, Edge Hill University
There are times in a person's life when specific events can have long-term implications on their future health. Pregnancy is one of those times – when major and dramatic changes occur within a woman's body composition in a short period of time.
A key element of a healthy pregnancy is appropriate weight gain. Maternal obesity is thought to be one of the most common factors in high-risk pregnancies. It can cause short and long-term health risks to both mother and child, an increased birth weight and problems with delivery.
It is thought that 20% of pregnant women in the UK are obese, and due to the current obesogenic environment it is likely that this proportion will increase.
Obesity in pregnancy can cause infants to be predisposed to develop childhood obesity, metabolic syndrome and diabetes. For the mother there is also the risk of pre-eclampsia, miscarriage and gestational diabetes.
To combat this, there have been calls for women's weight to be monitored throughout the course of their pregnancy. This is something which has not been carried out consistently in the UK since the 1990s (when there was a lack of clinical evidence to suggest it was worthwhile).
But we know now that body composition measurements can help predict maternal health and pregnancy outcomes. This monitoring throughout pregnancy may also have an influence on the birth weight of the baby, which in turn is a key determinant of short and long-term health conditions.
Midwives have a unique opportunity to provide advice regarding appropriate nutrition to the women in their care, and health promotion and education are considered among the most important activities they perform. However studies in the UK, Sweden and Australia conclude that many struggle to provide this advice.
One reason for this is that midwives do not have clear guidelines regarding what weight a woman should gain throughout her pregnancy. The National Institute of Health and Care Excellence (NICE) are currently considering a target of 16kg for women of a normal weight and 9kg for those who are obese.
Eating for how many?
It is important to remember that weight gain during pregnancy is not the sole issue with regard to the future health of the baby. If a baby has low weight gain following birth the risk of chronic disease later in life is increased and the child can also be undernourished and suffer stunted growth.
And while the focus is often on obesity and excessive weight gain, there are also serious issues at the other end of the spectrum. Women who do not gain enough weight and are not consuming enough calories are more at risk of giving birth preterm to children with a low birth weight. Babies born under 2.5kg are less likely to survive, and those that do also have an increased risk of long-term health conditions.
The current dietary reference value for a pregnant woman is an extra 200 Kcal per day in the third trimester only. This is all that should be required in order to maintain the healthy development of the foetus.
The myth that pregnant women are "eating for two" encourages them to feel they can eat whatever they want. The right information about how much and what they should eat during pregnancy is still not reaching many women – potentially putting their health, and that of their unborn babies, at risk.
So who should be providing this information? The weight loss organisation Slimming World has been commended for supporting women to eat healthily and monitor weight increase in pregnancy.
But there also needs to be advice provided to how to increase weight for those who are underweight. Alongside information regarding adequate and appropriate nutritional intake, there is a need for specialist support and education within this area. This could be a valuable role for a nutritionist as part of the care provided to women during their pregnancy.
Management of a healthy weight and subsequent weight gain in pregnancy is becoming increasingly difficult to maintain within modern society. The current advice from NICE is that weight and height are measured at the pregnant woman's first appointment – but not regularly throughout the pregnancy.
Yet pregnancy is a time when women often have an increased nutritional awareness and the motivation to do what is right for themselves and their baby. Regular weight monitoring would be an effective way of helping them achieve this – while they are hungry for information on how to be as healthy as they can be.

Hazel Flight, Programme Lead Nutrition and Health, Edge Hill University
This article is republished from The Conversation under a Creative Commons license. Read the original article.