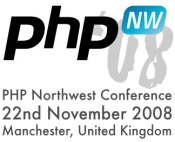 London has had a PHP conference running for a number of years – Andy and I attended the last one in February this year – but there's not been anything up North so far. That's all about to change with the creation of PHPNW and the announcement of the first (of many?!) PHP North West Conference to be held in the conference-centre-formally-known-as-GMEX (Manchester Central) on Saturday 22nd November.
Lorna Mitchell does a much better job of explaining it than I could:

Lorna Mitchell – PHP North West from oreillygmt on Vimeo.
Something that might be of interest to our students is that there will be a number of concessionary tickets available so keep an eye out on the conference website for when tickets are released.
I also popped into Manchester on Tuesday to go to the PHPNW meetup – a chance for PHP developers from across the region to get together and chat.  This time as well as a quick update about the conference, there was a short presentation about version control systems.  This is something we already do using subversion but it was interesting to see nontheless.
Anyway, it's good to see the North West tech community continue to grow and I'm looking forward to going to PHP North West Conference 2008.