Developing pupils' spiritual literacy is key to outstanding RE teaching.
"The school's thoughtful and wide-ranging promotion of pupils' spiritual, moral, social and cultural
development and their physical wellbeing enables them to thrive in a supportive, highly cohesive learning
community." Ofsted: Descriptor of outstanding overall effectiveness (January 2014)
Year 2 Undergraduate students spent a morning with Emma McVittie in order to help them be able to plan for Spiritual Development during their school placements.  Emma is a member of the Executive Committee for the International Association of Children's Spirituality and has written widely in the field.
Students first worked to define spirituality and were introduced to a model with four 'dimensions'
Looking Within: Concerned with personal spirituality and inner-thoughts.
Looking to Others: Thinking about the social and moral aspect of spirituality and the influence on relationships.
Looking Around: The world around us and how this can instil, influence and spark our spirituality.
Looking Beyond: The transcendental aspect of spirituality. Looking beyond ourselves and linking spirituality and religion.
The session became more experiential with students using some resources from the ME! resource which Emma has created and uses in schools. After a break students used the gardens at Edge Hill to work in pairs to be human cameras, taking pictures of big and little wows.    Finally back in the classroom more active learning techniques for developing pupils' spiritual literacy were demonstrated and tried out by the students.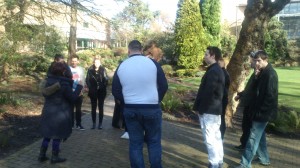 I thought it was a great. Loads of different teaching techniques for the classroom and a great way of showing how spirituality can exist both within and externally to religion – Sarah