It really does not feel like it's been 9 weeks of this internship. It pains me to say, in 4 more weeks this internship will be over. However, I always try to look at the positive side of things, when this internship is over I will have made a massive positive impact on the module areas on Blackboard for my department, learning episodes will have been created, the accessibility rating of each module will have been improved, tutorial videos created for how to download specialist software, a navigation video of how to navigate around the Blackboard module areas and improved the captioning of the lectures.
Overall, I cannot wait to get started with this week. Keep on reading to find exciting, events that happened throughout the week.
Monday
I woke up on a lovely Monday morning, with a cup of Coffee at hand – I prefer my coffee with milk. I opened my laptop at 8:45 and got started with today's task. I feel that accessibility is extremely important because no students will be at a disadvantage of learning the content on Microsoft Word documents, PowerPoints (Where the lectures and seminars are created) and on Portable Document Format (PDF)s – that was this morning's focus. Whilst doing it I realised how much progress Andrew (my colleague) and I have made on accessibility -everything is now 90% or more accessible and I am extremely joyful about that! Not only have we done a fantastic job but all of the students will be able to learn the content easily. It just amazing how much of a difference we have made.
For the rest of the day, I focused on learning episodes. Learning episodes is another important aspect to learning because then students will be able to follow a pattern and be able to learn the content in the order the module leader intended the students to follow.
Tuesday
Today has been the busiest day so far!
Some students find it difficult to install the software some modules required to complete the module. So today I had to create an installation video for Anaconda, which is a software used in data science. It uses the programming language Python. To complete this task, I had to learn how the software works. This meant having a play with the software and following the instructions provided in one of the lectures. It took most of the day to create to the video as the software's installation process required some packages and specific settings.
For the final hour of the day I attended an extremely useful Careers webinar. This one was called 'Spring into Success – The Graduate Job Interview – What to expect and how to prepare'. I found this incredibly useful because every time I have an interview, I always get a bit nervous. The techniques about reducing stress were great and they shared an important tip to make a plan for travelling to where the interview is going to take place and note down how long it takes you. I also learnt some common mistakes which I am to ensure I avoid in my next interview such as waffling on or saying too little, not drawing on experience, talking too fast or too little.
Wednesday
Motivation is really important whilst you are working. The less motivated you are the quality of work you produce will decrease. Throughout my internship there have been times where I question my motivation. I have two solutions to this. One is take a quick ten minute break (breaks are mega important). You need time to breathe to relax as then your brain is not focusing on work. I normally sit down with a cup of tea and listen to one or two songs. Listening to Carly Rae Jepsen often helps keep my motivation levels up. The other solution is to mix things up and get on with other tasks.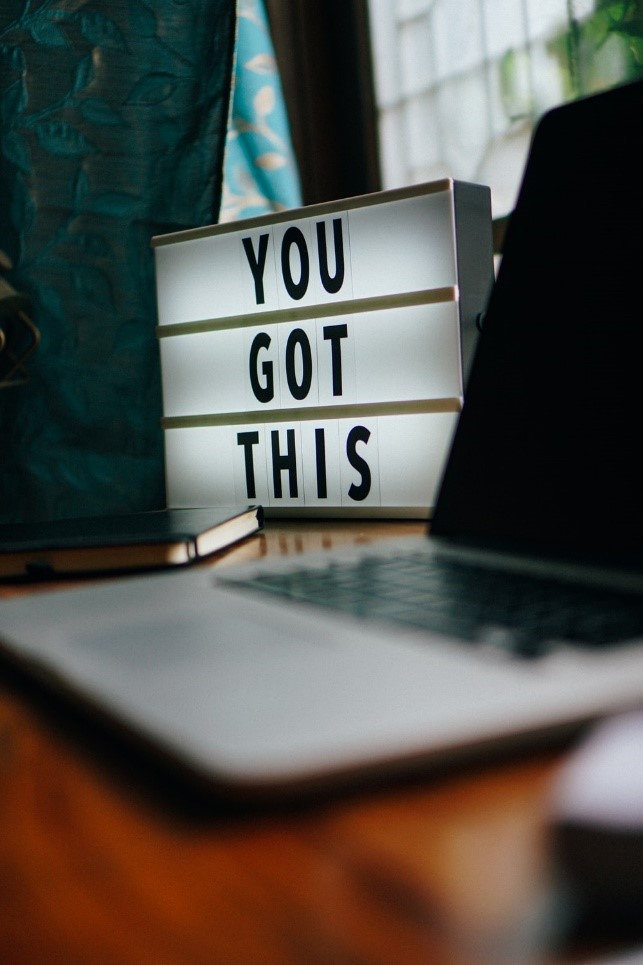 Thursday
I felt amazing in the morning because my motivation levels have increased significantly from yesterday. Doing the captioning of the lecturers doesn't just benefit the students and lecturers, it also benefits me as well because I get the chance to learn about topics taught in the Master's program. The module my colleague and I worked on today is a Masters Dissertation Preparation module – I will be producing a dissertation in my 3rd year.
Proving you have a particular skill is incredibly useful for when you are trying to get a job, because of this I thought it would be extremely useful to spend some time completing a LinkedIn Learning course. One piece of software we all use is Microsoft Word and this LinkedIn Learning course is about learning the basics of Microsoft Word. The course is called Learning Word 2019. So when I'm applying for a job and in the future if the person specification says I need to have knowledge of Microsoft Word then I can show them the certificate to prove it!
Friday
Today is the final day of the week. I sat down with a glass of water and turned on my laptop on at 8:45 excited to get on with today's task. Today my colleague and I decided to continue with the captioning of the lecture slides. This is a very important task to continue with because the current lecture slides needed to be replaced with the accessible template. So this task kept me busy for the rest of the day.
Reflection is an extremely important process because then you can identify your strengths and weaknesses. For me, the skill I want to improve on is my working speed. I am a bit of a perfectionist so this sometimes causes me to be careful in my work because I like to ensure that my work is done correctly. However, the disadvantage to this is I tend to take longer than necessary and I don't often realise how long the job is taking me. In my reflection I have said my action plan is to time myself in how long I spend on a particular task, that way I will be able to see if I am spending too long on a task and need to move onto the next one.
Overall, I have enjoyed this week a lot and I can't wait to enjoy the rest of it and help make a difference to some of the module areas that the lecturers will use to teach their students.
By Simon Hackett-Evans (Student Intern)