Hey everyone and Happy December! With the Christmas holidays coming up and people flying back home to Northern Ireland like me, the Isle of Man or other places, I thought I would give some advice on how I make the flying process much easier and stress free.
My first piece of advice would be to BOOK EARLY! I cannot stress this enough. Booking your flights early will not only save you money but also save you from panicking about trying to get tickets for a flight that is fully booked. I try to book all my flights early so that I am saving money and am more relaxed knowing that I am going home.
My next point is also very pivotal to a stress free journey home and that is to ARRIVE EARLY! My family and friends always make fun of me for arriving far too early at the airport (5 hours early…) but I'll be the one laughing when they show up to a flight and miss it because they get stuck in security. Arriving at least 3 hours before a flight cuts out so much stress because you can find somewhere comfortable to sit, grab a coffee and listen to Christmas music until you're flight is called.

Particularly at this time of the year, airports can be so so busy and so it is always better not to underestimate the craziness of them and show up to your flight early.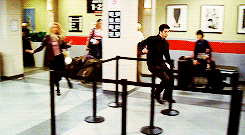 My final piece of advice when flying home this Christmas is to try and find someone to travel with. The reason I say this is because, if you book a flight that is early in the morning or late in the night, taking public transport to the airport can be hard and you might have to take a taxi. My flight home for Christmas last year was very early because it was the cheapest but it meant that no trains or buses were running so I had to book a taxi which cost me around £33. Flying with someone that you could share a taxi with will make this cheaper and it is also a lot more fun travelling with a friend.
I hope that you have found this advice useful for when you are travelling home for Christmas and I hope that you have safe travels wherever you are going!
Thank you for reading, Lauren x
"I long, as does every human being, to be at home wherever I find myself."

-Maya Angelou-