---
Getting ready to leave home can be a daunting experience. Trust me, I am about to do it for the second time. University is a big step, not just for your education but for your life and independence too. An important part of getting yourself ready is thinking about how walking out the door of your house is going to affect yourself and those around you. It's easy to think it will be easy to take that step but trust me it never is.
---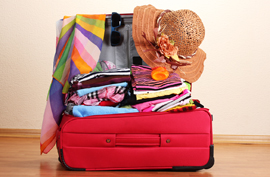 Packing is important. You cant really afford to arrive to your new home forgetting all your socks. Taking the time to figure out what you will need and what you can get in the shops will give you a lighter load on your back. Remember to plan according to your transport. You wont be able to take a lot of your essential liquids.
---
Transport is another aspect that you need to spend time planning and organising well in advance of leaving. I have wrote extensively about this in a blog that I will link down below. It is worth spending time deciding what is the best method of getting there. It could be plane or train, so check the link below.
---
Goodbyes are the hardest thing to prepare for. You can't really get ready to say 'see ya' to someone you've spent most of your life with. And it's not going to just be your family, but your friends. The best way I have found to help with this is to plan your first trip home before you leave.
---
Related Blogs:
Getting between home and Edge Hill University – Or how not to miss your flight
How to deal with missing home at Edge Hill – The awkward 'goodbye' hugs
---
So that's all there is to it. If you plan and prepare you can make moving out as easy as possible for yourself.
And if you want more free and great information on any topic email [email protected] or leave a comment below and I will get back to you. If you want to suggest something to write about or want to be interviewed leave a comment below also and I will get back to you personally!